The Meals Jesus Ate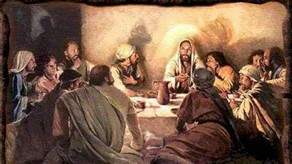 With Memorial Day and the celebration of Pentecost in the rear-view mirror, we begin the summer season with a sermon series to accompany our month-long focus on the capital campaign. As you know, the theme of the campaign is "Setting the Table." The idea of setting the table naturally causes us to think of looking forward. We set the table precisely to get ready for something. Additionally, setting the table requires some basic work and effort to make sure the table is ready for the meal that is to come.
We like the theme "Setting the Table" for our capital campaign because it encourages us to look forward to, and anticipate, the wonderful things God has in store for our faith community. And it reminds us that there is preparatory work on our part to get ready for the good things that are to come.
It also seemed only fitting that we spend these next few weeks in worship thinking about tables and meals in the ministry of Jesus. Jesus spent at lot of time sitting at one table or another. The meals Jesus ate were about much more than the food consumed. They were opportunities he took to teach us the meaning of the Gospel and how we can embody it in our lives today. Here is what we can look forward to over the next three weekends.
June 12
When Jesus Ate... People Came Together
Mark 2:13-17
At Jesus' table, there is always room for one more
June 19
When Jesus Ate... The Cost Wasn't Counted
Luke 19:1-10
The grace of Jesus is both amazing and abundant
June 26
When Jesus Ate... God Was Revealed
Luke 24:36-42
Meals confirm miracles
Blessings – Michael