Learning to Step Out of the Comfort Zone sermon series
Stepping Out of the Comfort Zone
Welcome to 2020! With the arrival of a new year come new challenges and new opportunities. That much is true… and beyond our control. They will come whether we are ready for them or not. What is within our control is how we will meet them, perceive them, embrace them. Faith calls us to be ready to do so in a spirit worthy of the Christ whom we follow. As a new year unfolds at Central, we kick off the year with a sermon series called "Learning to Step Out of the Comfort Zone." The faith we profess means that we are accepted by Christ just as we are. This fact is intended to bring great comfort, but the Christ who accepts us also expects us to be willing to step outside our zone of comfort for the purpose of bringing his hope, salvation, and comfort to others. Join us over the next month as we explore this in greater detail.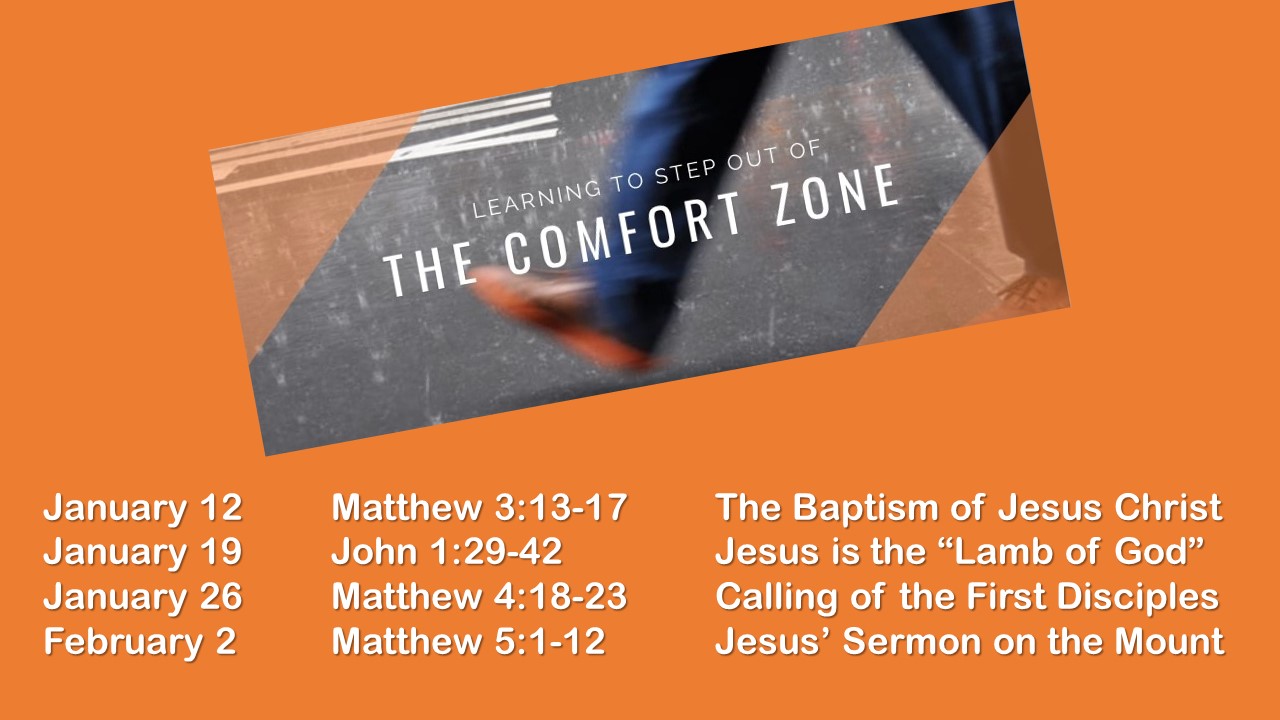 January 12 Matthew 3:13-17 The Baptism of Jesus Christ
Through our profession of faith in Christ, symbolized by baptism, we are accepted by him. This acceptance is meant to convey divine comfort… God's intent to give us hope.
January 19 John 1:29-42 Jesus is the "Lamb of God"
Jesus accepts us just as we are – with all our scars and woundedness. We do not need to hide our brokenness when we come before Christ. Rather it is in our broken state that we are accepted
January 26 Matthew 4:18-23 Calling of the First Disciples
Christ accepts us as we are, but never intends for us to stay "just as we are." He calls us to step out of our comfort zone. To follow him fully is to be willing to do this very thing.
January 26 Matthew 5:1-12 Jesus' Sermon on the Mount
All people are on a quest for hope. We believe Jesus Christ is the truest expression of hope that can be found. Christ calls us out of our comfort zones to bring the comfort he can provide to others.
Blessings… Michael