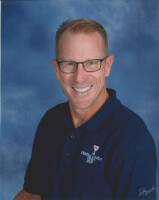 Michael Karunas
Senior Minister
E-Mail:

Rev. Michael E. Karunas has been senior minister at Central Christian since March 2012. Prior to beginning his tenure here, he served First Christian Church, Baton Rouge, La. (2004-2012), and First Christian Church, Centralia, Ill. (1998-2004), both in the capacity of senior minister. Originally from Ann Arbor, Mich., Michael received his A.B. from Butler University (1991) and his Master of Divinity from the University of Chicago (1998). He has been an active participant in the wider church, having served as a Global Mission Intern with the Division of Overseas Ministries of the Christian Church (Disciples of Christ) in East Germany (1991-1993) and on the Week of Compassion Advisory Committee of the Christian Church (Disciples of Christ) (2006-2010).
Michael is an avid distance runner, having logged nearly 20,000 miles over a 15 year running career. He enjoys singing and playing the trumpet, reading (mostly non-fiction, with a preference for history, philosophy, and religion), and has memorized and performed the Gospel of Mark as a one-man show. He is married to Amy Ziettlow, an ordained minister in the Evangelical Lutheran Church, writer and researcher. They have three children and enjoy spending time as a family, particularly spending summer vacations at the family cabin in Northern Michigan.
David Martin
Youth Director
E-Mail:

David Martin has been the Youth Director at Central since 2016. He has been an active member of Central and its youth program since 1998. He has a Sports Management and Communication degree from Illinois College (2014). Along with his work at Central, David is a substitute teacher in the Decatur Public Schools and the varsity baseball coach for the Cerro Gordo Bement Broncos. During the summers, David is a counselor for the regional camp at Camp Walter Scott for the JYF, Chi Rho, and CYF camps. He also has spent time each of the last five summers as a coach with the Chicago Cubs Youth Camps.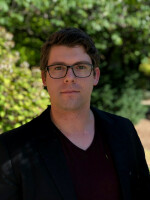 Dr. Benjamin Hawkinson began serving as Interim Music Director in July of 2021. He also serves as Assistant Professor of Music at Millikin University where conducts several choirs, vocal jazz ensembles, and teaches courses in Choral Music Education. Dr. Hawkinson has performed nationally as a chorus member, including recording projects with Sedona Academy of Chamber Singers, and performances with the New York Philharmonic, Philadelphia Orchestra, and others. Choirs under his preparation have performed many large choral-orchestral works, including a Brahms Requiem performed in Alice Tully Hall. As a jazz educator, Dr. Hawkinson is in demand as a clinician and adjudicator around Illinois. Under his direction Millikin University's One Voice has been invited to perform at the international Jazz Educators Network convention in January of 2022.
Dr. Hawkinson holds a Doctorate of Musical Arts in Choral Conducting from Texas Tech University, a Masters in Choral Conducting from Westminster Choir College, and a Bachelors of Music Education from Northern Arizona University.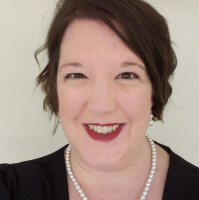 Kathleen Dudley
Administrative Assistant
Office: 217-428-4336
E-Mail:

Kathleen Dudley grew up in Decatur, IL, where she graduated Eisenhower High School and met her husband, Justin. She then went on to study at and receive her Bachelor's degree from Hendrix College in Conway, AR, with a psychology major and religion minor. Kathleen joined the Central Christian Church staff in April of 2019. She is an active member of Heartland Community Church, which she joined in 2003. She and her husband have two children, two cats, and two family entertainment businesses to run when they aren't working or parenting. Justin is a magician and a balloon twister, and Kathleen does glittery waterproof body art. Kathleen is a proud alto alumna of Opus 24. Kathleen also enjoys reading, cross-stitch, singing, and Netflix when she does get free time.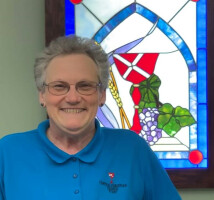 Yvonne Boyd
Administrative Assistant
E-Mail:

Yvonne Boyd, administrative assistant. Born and bred in the Decatur area. Comes to us with over 45 years of office experience.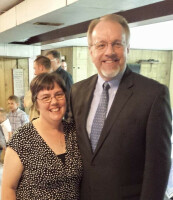 Vicky Woolridge
Pastor for Families
E-Mail:

Vicky Woolridge serves Central Christian Church as Pastor for Families, in a part time role. She has a passion for supporting families as they share faith with their children.
Vicky's career has been as a teacher of young children. She is trained in Positive Discipline, a model for parents and classroom teachers, based on respectful relationships between children and adults. She values the curiosity and capabilities of each child and strives to nurture that.
Vicky's call to ministry came when she was very young, and she earned a degree in Religious Studies from Eureka College. She also completed education course work and received her Illinois teaching certificate. Upon completion of the Illinois-Wisconsin Regional church's School for Ministry, she received a certificate in pastoral leadership in June 2022. She joined the staff at Central in August 2022.
Vicky believes that sharing the Good News that each person is loved completely by God, just as they are, is sacred work. She endeavors to live her life in a way that God's love is tangible to everyone she encounters, especially children.
Vicky's family includes her husband Scott, their daughter Allison, their daughter Shalon, and her husband Patrick, and their two sweet children. She enjoys being a grandma, baking treats, writing, and connecting with friends.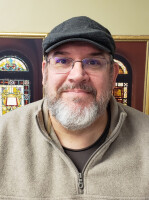 Carl Fuerstenberg
Administrative Assistant
Office: 2174284336
E-Mail:

And our other great staff!
Cordelia "Dee Dee" Gain, Organist
David Williams, Organist
Abigail Smith, Nursery Attendant
Rachel Miller, Nursery Attendant
Ella Redden, Nursery Attendant
Brooke Swinford, Nursery Attendant
Andrew Evans, Caretaker
Jim Denzer, Caretaker
Sam Hawkinson, Caretaker