Our Mission
To share Christ, change lives, and deliver hope. We connect people with experiences that perpetuate transformation. Our environment is rich with opportunities for personal and corporate development.
At Central Christian Church we are here to assist you in shaping the hearts and minds of children and youth to the glory of God! As we join hands in unity both in prayer and teaching, our children will be further trained and prepared to handle the challenges of the "now" as well as the future.
We love children, youth, and their parents too! We strive to equip parents to be all that God intends them to be within the context of the home environment, the church, the workplace, and the community.
Some opportunities we have for young parents are:
cultivation of interpersonal relationships
parent support groups
Bible studies
off-site events.
Our prayer is that we meet your ministerial needs and that together we will connect with Christ, each other, our neighbors, and the next generation!
Please feel free to stop by, text, call, or email us. Our doors and hearts are open!
---
Youth News & Events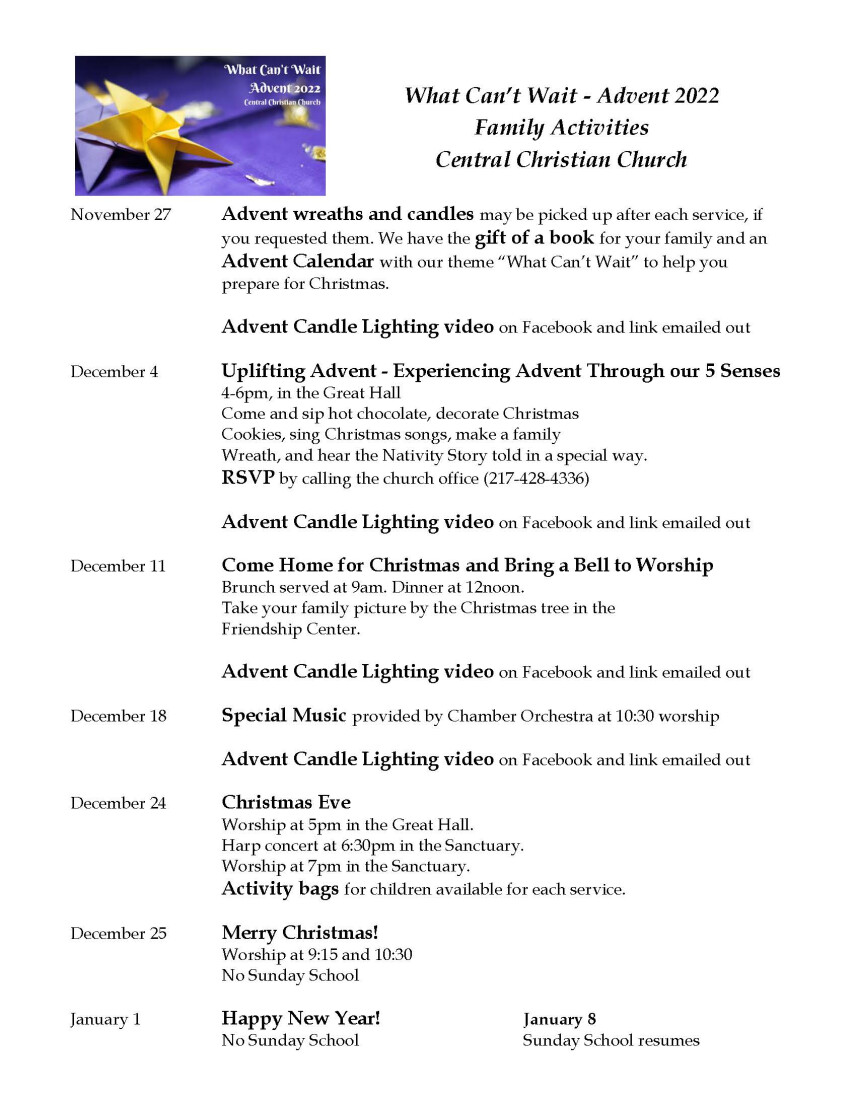 ---
The Nursery:
Nursery services are available every Sunday from 9:00 am until 12:00 noon.
Our newly re-finished and furnished nursery is a bright space with lots of room for exploration and learning. Children ages birth through 5 years old are welcome to come and spend time with our well trained and CPR certified staff. The Nursery is located just inside the West Entrance of our building on the 1st floor of our Education Wing, 1R in Room 150.
Sunday School:
Sunday School classes are available for grades K-12
every Sunday from 9:00-10:00 am.

Sunday School classes offer age appropriate curriculum that holds your child's attention and nurtures your child's spirit! The time is focused on learning about God and God's overarching story as it is revealed through the Bible. We grow together in grace, truth, and relationship with God and one another! Classes are held on the 2nd floor of the Education Wing, 2R.
Class for K-5

th

Grade includes a time of praise worship, Bible study, and crafts. We spend time in conversation and fostering community within our church.
Class for 6

th

-12

th

Grade includes hands-on activities to bring God's Word to life and discussion to help foster questions and explore ways to articulate our faith in Christ.
Youth Group:
Youth group is for all school-aged children grades Kindergarten through 12
th

Grade from 4-6 pm most

Sundays (see David Martin for questions).

Youth Group is inspired by Acts 2:42: "They devoted themselves to the apostles' teaching and fellowship, to the breaking of bread and the prayers." Youth and leaders participate in games, music, Bible study, worship, crafts, and snacks. Youth Group curriculum focuses on nurturing each child and youth's personal relationship with God, their relationships with each other, and their relationship with their community.