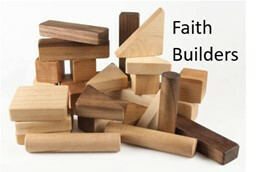 We are excited to introduce a new program for children in 3rd through 5th grades as a way to offer support to families as they share faith with their children.
Traditionally at Central, children who are in 6th grade are invited to participate in a Faith Quest class that lasts over several months and prepares them to make their decision about baptism.
We are offering this new class that comes in the years before Faith Quest called Faith Builders. Our first session will be Sunday, October 15, from4-5:30pm. This is a time for parents and/or grandparents to be with their children as they learn.
If your family is interested and will be there on October 15, please RSVP by calling the church office by October 2. If you are unable to attend on October 15 and are interested in Faith Builders for your child, please reach out to Pastor Vicky.