Pastor Michael and Central to embrace Sabbatical in 2023!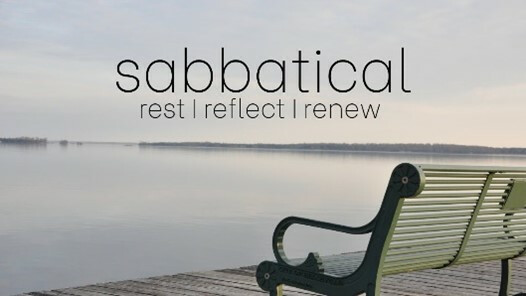 Last November, the church council voted to approve a sabbatical for Pastor Michael in 2023. Now that the holidays are over, we want to make that news as public as possible within the church community and begin preparing for this time in our congregational life. We will have much more to share in the coming weeks, but here is some preliminary information at this point.
What is a Sabbatical?
The word comes from the biblical
concept of "Sabbath" and emphasizes rest as an important part of ministerial life. Just as God's creative work wasn't complete until God rested (Gen. 2:2), sabbath in ministry is part of the work of ministry and not a break from it. While it would be ideal for every profession and occupation to offer a sabbatical policy, in the ministry, a sabbatical is time when the minister steps away from church work for an extended period of time. Unlike academic sabbaticals, which often include the expectation that the professor will produce some academic work during a sabbatical, ministry sabbaticals emphasize rest and renewal over production.
What does this mean specifically for Central?
Pastor Michael would be gone from his work at Central from mid-May through early August. He might spend much of that time at his home in Decatur, but would not be present at the church in any way or for any reason – including Sunday worship, meetings, and day-to-day ministry.
What makes this important now?
Central's employment policy allows ministers to apply for a sabbatical every 5 years. Pastor Michael and the council had explored the possibility of pursuing a sabbatical pre-covid, but then those plans were shelved due to the pandemic. There is nothing "wrong" with Pastor Michael or with the relationship between him and the congregation. On the contrary, sabbaticals are encouraged for healthy pastors and healthy congregations, who want to "renew" and "recharge" themselves so as to continue pursuing vital ministries.
How will day-to-day things be handled?
Very soon, a Sabbatical Committee will be formed (led by vice-president Gerri Munos) that will address these very things. We are fully confident that this committee – along with the church council – will make sure that Sundays continue to have meaningful worship and inspiring sermons; that pastoral care needs and emergencies are covered; and programming goes on as normal. We already have an amazing staff and incredibly gifted lay leaders at every level of the congregation. Because of this, we should all have every confidence that not only will things be taken care of, but these 12 weeks can even be an opportunity for the church family to grow and thrive in unforeseen ways.
What if I have further questions? Or ideas I want the Sabbatical Committee to hear?
Good news! We will be planning some kind of discussion opportunity(ies) within the next month (something like a round-table format), as well as offering the chance to share questions, concerns, and ideas in writing. So be on the lookout in the bi-weekly Visitor and/or in this bi-weekly Mid-Week Update email for more information. Emailing is always a way to reach out with any questions or comments as well.