Making Meaningful Connections
I recently joined a clergy devotional group. We meet 90 minutes every other week virtually. Three of us are in Illinois, and two are located in Kentucky. The focus of the conversations is a handbook based on the writings of Thomas Merton entitled, Bridges to Contemplative Living. This past week's theme was "Purity of Heart," and Merton believed this was rooted in humility. To be pure in heart, he said, is to "renounce all deluded images of ourselves," as well as "all exaggerated estimates of our own capacities" so that we me might obey God's will for us. He then said that meditation is necessary for this to happen:
Meditation is then ordered to this new insight, this direct knowledge of the self in its higher aspect. What am I? I am myself a word spoken by God. Can God speak a word that does not have any meaning?
As part of our discussion, each of us was asked to identify the word or phrase that stood out to us in the much longer reading from which I've quoted just a part. For me, it was that last sentence from the quote above: Can God speak a word that does not have any meaning? Clearly, this is a rhetorical question, and the answer is "no." Isaiah 55:11 says, "...My word that goes out from my mouth shall not return to me empty but shall accomplish that which I purpose, and succeed in the thing for which I sent it." And Psalm 139:14 says "I praise you (O God), for I am fearfully and wonderfully made." If each of us is a word spoken by God, of course we have meaning. It says so right there in scripture.
But what is more intriguing for me is how words really only have meaning when placed in context with other words. Alone, a single word merely signifies or represents something or possible a variety of "somethings." But only when connected with other words does it have the potential to convey many meanings. It is not enough, then, that we exist as a creature "fearfully and wonderfully made" by God. For us to accomplish any kind of purpose at all is to build connections with others. It is in our connections with others that we realize the full potential of what would otherwise lay dormant inside us if we remain isolated or disconnected.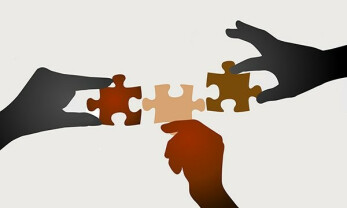 Perhaps this is the "deluded images" and "exaggerated estimates of ourselves" Merton seeks for us to renounce; the feeling that we are somehow great and worthy on our own – simply existing as we are and for ourselves alone. And perhaps that is further why Jesus instructed us to "love our neighbor" as the greatest of all commandments. For love is that divine force that always draws us outside ourselves and seeks to make connections – with others, with our true selves and with God. And perhaps – having a less self-aggrandizing view of ourselves and seeking rather, in humility, to make connections with others – would be a good "cross" for us to "take up" as we seek to follow Christ today.
Blessings – Michael