Re-Cap from Deep Roots, Wild Branches Conversation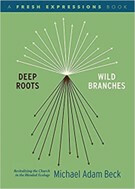 On Monday, August 28, over 30 people attended the "Deep Roots, Wild Branches" conversation in the Great Hall. Everyone who participated in one of the reading groups during the summer was invited to attend, as was anyone in the church who wanted to learn more about the book. The basic premise was that the "church of tomorrow" will not look like the "church of yesterday." Churches that thrive in the future will be ones who can "blend their ecology" to bring together "deep roots" and "wild branches." Deep Roots represent the tradition and all the inherited practices of the church as we know it– designed to meet the needs of the churched and re-churched and attracting people to the brick-and-mortar building. Wild Branches represent the fresh expressions of ministry that will define the church of tomorrow – taking place outside the building, reaching the not-yet-churched, without emphasizing the need to "attract" them to the brick-and-mortar church building. Here is a summary of the conversation from 8/28. Three (3) questions were asked (responses given below each one).
Where/ How do we see ourselves (at Central) described in the book:
Though we are regularly gain visitors and new members, attendance (overall) has declined in the last several decades.
Contemporary worship is a "Wild Branch" for us within our congregation. Traditional worship is a "Deep Root."
An increased focus on technology (e.g. livestream, social media) is also a "Wild Branch" for us.
We still measure success on the basis of budgets and attendance.
We are still and "attractional" church (we focus on drawing people to our brick-and-mortar building for things like worship, programs and social outreach).
In what ways do we see the book stretching us to grow:
The Tuesday morning Journeymen's Bible Study could meet "off site"
We have people already involved in communities outside church. These could be the bases of fresh expressions of ministry that never end up "attracting" people to our building.
We could do more things like the Neighborhood Picnic (from July 2023).
We could emphasize mission outside the building more.
We could connect with Millikin Heights more.
What questions do we have for the book that are still left unanswered that we would like to have answered as we move forward:
We are friendly and accepting (our congregational spiritual gift). How might this be built upon to create Wild Branch ministry?
What is the relationship between Deep Roots and Wild Branches from a support and communication standpoint? What does it look like when "Deep Roots" are supporting Wild Branches? And what does communication look like between the "Deep Roots" and the "Wild Branches?"
Where do we go from here? This information will be shared with the council and then any future work we do in the "Wild Branches" area of ministry will come from the council and be advertised more widely throughout the congregation. Any work we do in this area will certainly create new opportunities for individuals to serve in ministry and we want to make sure these are well advertised and encouraged. Thank you for the effort and support you have given to this book study.
Blessings – Michael