Jesus famously said to the disciple Thomas, "Do not doubt, only believe" (John 20:27). From that point forward, doubt has had a precarious relationship with faith. And Thomas was given the notorious moniker "Doubting Thomas." Jesus had appeared to the disciples in the evening on the first Easter Sunday. Thomas, however, was not with them and so missed the event. When the rest of the disciples told him what they had experienced he proclaimed that unless he himself laid eyes on Jesus and touched his wounds, he would not believe. So Jesus appeared a week later and after revealing himself to Thomas uttered those famous (or are they infamous?) words.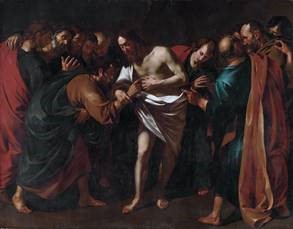 We think of doubt as being associated with skepticism and having questions; needing more (more evidence, more time …) before we can get on board with something. While this is fine, Jesus didn't say that exactly. Doubt is the English translation of the Greek word "a-pistos" in John 20. The reason for writing it this way is that the prefix "a" in Greek is a negation that means "the absence of." So the word "atypical" for example is what we use to refer to something that is not typical. It is the absence of being typical. And "pistos" in Greek is the word used for faith. So what Jesus literally says to Thomas is "Do not have the absence of faith, but have faith." Or, "Do not not believe, just believe." The issue for Jesus is not having questions or desiring more of something. The issue is having no faith at all!
Furthermore, the word in Greek for faith ("Pistis") is a derivation from the word that means "to persuade." Taking things a step further, then, Jesus is really saying to Thomas, "Don't have an inability to be persuaded, have an ability to be persuaded." It is as though he wants Thomas to know, "Of course, you will never have all your questions answered. And you may not get all the evidence you are looking for. But don't lose the ability to be persuaded by what you do have. For there is enough here – in the testimony of your brothers, for example – for you to believe."
We tend to think of doubt as weakness – at least when it comes to faith. Doubt is an indicator of a lack of faith. But that is not true for Jesus. Doubt is actually part of faith. The absence of faith at all is what is should be feared – the inability to be persuaded. When we are locked into one way of thinking, or one way of seeing things, we are most likely closing ourselves off from the real places God desires to be encountered, because we have determined ourselves to be unable to be persuaded by what is there.
It is the lot of being human that we will probably never has as much as we would like before making the decisions that matter most. In this respect, doubt will never be far away from us. But Jesus also says to Thomas, "Blessed are those who have not seen, yet still believe." (John 20:29) This is a reminder that there is always enough evidence around us to persuade us to believe in a God that turns suffering into hope and perpetually gives new life. The question is never "Will God do it," as much as it is "Will we see it."